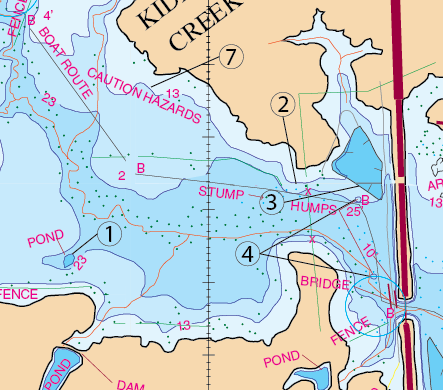 Pre-inundation photo of Mustang Creek
Location #1, #2, #3, #4, & #7
The area west of the Hwy 17 bridge
Location: #1
Pond Dam.
Timing:  All seasons.
What to do:  Use Jigs, Cotton Candy Colored French Frys, Carolina or Texas rigs with Lizard or Worm.
Location: #2 & #7
This is a very, very productive night fishing pattern. Focus your efforts at location #2. You can begin fishing at a spot located on the north shore where the power line goes over the lake. Begin on that north side of Mustang and fish this bank from here and go west to location #7. You basically can go all the way west to Kidney Creek. The key to this whole technique is this. This area is usually great at midnight and 2:30AM. The significant factor to look for is grass. For this to be good it has to have good grass on it. This area right here will either have great grass on it or it will have that old dead brown grass on it. If it has the dead grass then it is not going to be very productive at all. If it has a good growth of green grass then you can't beat this bank right here between midnight and 2:30AM. This area will be good for several fish. Many of those will be be very good fish. This can produce some really nice night fishing trips.
Timing: Fish it at night starting in April through August (Midnight to 2:30AM).
What to Do:  There are two baits that work well for this area. Throw a black 6″ Hawg craw with powder blue pincers (made by Gene Larew) that is Texas-rigged style. The other bait to use is a 1/2-oz black spinner bait (with a gold blade on it).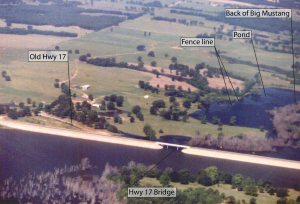 Big Mustang Creek at the Hwy 17 Bridge. Lake level elevation at elevation 388.55′. 14.45′ below normal pool level. View Looking West.
Location: #3
This is a borrow pit where dirt was taken out for construction of the bridge.
Timing:  All seasons.
What to do:  Use white spinner bait or a red rattle trap.
Location: #4
Two humps just west of the dam.
Timing:  May, June.
What to do:  Use a fluke or crank bait.
The blue outline in the picture is the approximate location of the lake filled with water. You are looking at the dry lake bed in the picture. The magenta arrow to the left points to the creek channel. The arrow to the right points to the new Hwy17 bridge. The magenta box a the bottom of the photo shows the old Hwy 17 bridge that is now underwater. The box at the top of the photo shows the borrow pit area.